Browse Categories
Subscribe

Get email updates on new products
Contact Us

Telephone: +86-0755-28329102
Mobile Phone: +86-15814411453
Fax: +86-755-28998345
Address:Room 02, 32 Floor, 6 block, Phase 3, Xieli Garden, Longcheng Street, Longgang District, Shenzhen
Zip:518172
Country/Region:China (Mainland)
Province/State:Guangdong
City:Shenzhen Contact Now
News

A, Fire-retardant FRP lighting roofing panels are mainly used in steel mills and blast furnaces with high temperatures, fire point splashes or some sp...

Due to cost, installation and construction, the refrigerated truck van panels were gradually made of FRP composite panels. FRP composite panels are made of FRP flats and used as two layers of the bottom and the top, in addition to the role of controlling the weight, and also have good impact resistance. The middle layer uses different kinds of core materials, such as PP honeycomb core material, XPS core material, PU core material, etc.,

ABS sheet is an emerging material in the plastic sheet industry. The full name is Acrylonitrile butdiene styrene. It is a polymer with a relatively la...

At the beginning of the industry, manpower was usually used to make FRP, but most manufacturers use production line to produce FRP sheet now. FRP mechanism sheet gradually replaced hand lay-up sheet. The FRP mechanism sheet has many advantages over the hand lay-up. The FRP mechanism plate has stable quality and uniform thickness. Cost-effective, neat and shiny surface.

    Do you know what a RV is? The concept of the beginning of RV is "movable house". The RV has all the necessary items for life, including bedr...

Foreth profiles are glass fiber reinforced composite products with superior physical and chemical properties that are alternatives to traditional buil...

Thanks of the excellent properties of FRP gratings, they are replacing carbon steel, stainless steel, wood and non-ferrous metals. The fiberglass gra...

The Fibre Reinforced Plastic (FRP) grating is a moulded, one-piece fibreglass reinforced plastic grating, available in standard panels or fabricated i...

FORE PP Sheet for Tanks Foreth PP Sheet has good acid and alkali resistance properties,excellent welding processability and non-toxic environmental ...
Nontoxic Thin Natural White Colored Plastic Polypropylene PP Sheet
Material: Polypropylene
Thickness: 0.2mm - 30mm
Width: ≤2000mm
Length: Customized
Color: White, Black, Green or customized
Surface: Glossy, Rough, Smooth, Textured
Service: Cutting, Drilling, Vacuumm forming
Nontoxic Thin Natural White Colored Plastic Polypropylene PP Sheet
A. Polypropylene Sheet Description
Polypropylene Sheet ( PP Sheet ) is one type of plastic sheet made from PP resin, by extrusion, calendering, cooling, cutting etc processes.
PP sheet has light weight, uniform thickness, smooth surface, good heat resistance, high mechanical strength, excellent chemical stability and electrical insulation, non-toxic characteristics of PP board is widely used chemical containers, machinery, electronics , electrical appliances, food packaging, pharmaceutical, decoration and water treatment fields. PP board practical temperature up to 100 degrees.
B. Polypropylene Sheet Features
  1. High chemical, corrosion resistance, non-toxic.
  2. Easily machined and cut.
  3. Light weight and rigid.
  4. Easy to maintain and clean.
  5. High tensile strength.

  6. Excellent abrasion resistance.
C. Polypropylene Sheet Types

Polypropylene Sheet Type 
Surface Type
FORE01
FORE02
FORE03
FORE04








FORE05

FORE06

FORE07-01
FORE07-02









Color Type


Special Requirements 
 Fire-retardant, Food Grade, Anti-static, UV protection
D. Package & Delivery

| | |
| --- | --- |
| Package |  Delivery |
| 1.Packed on plywood pallet |  1. Samples: 2-3 dyas |
|  2.Packed in plywood case |  2. Mass production: 7-15 working days after receive payment |
|  3.Load in container directly |  3. Delivery terms: EXW, FOB. CIF, DDP all can be accepted |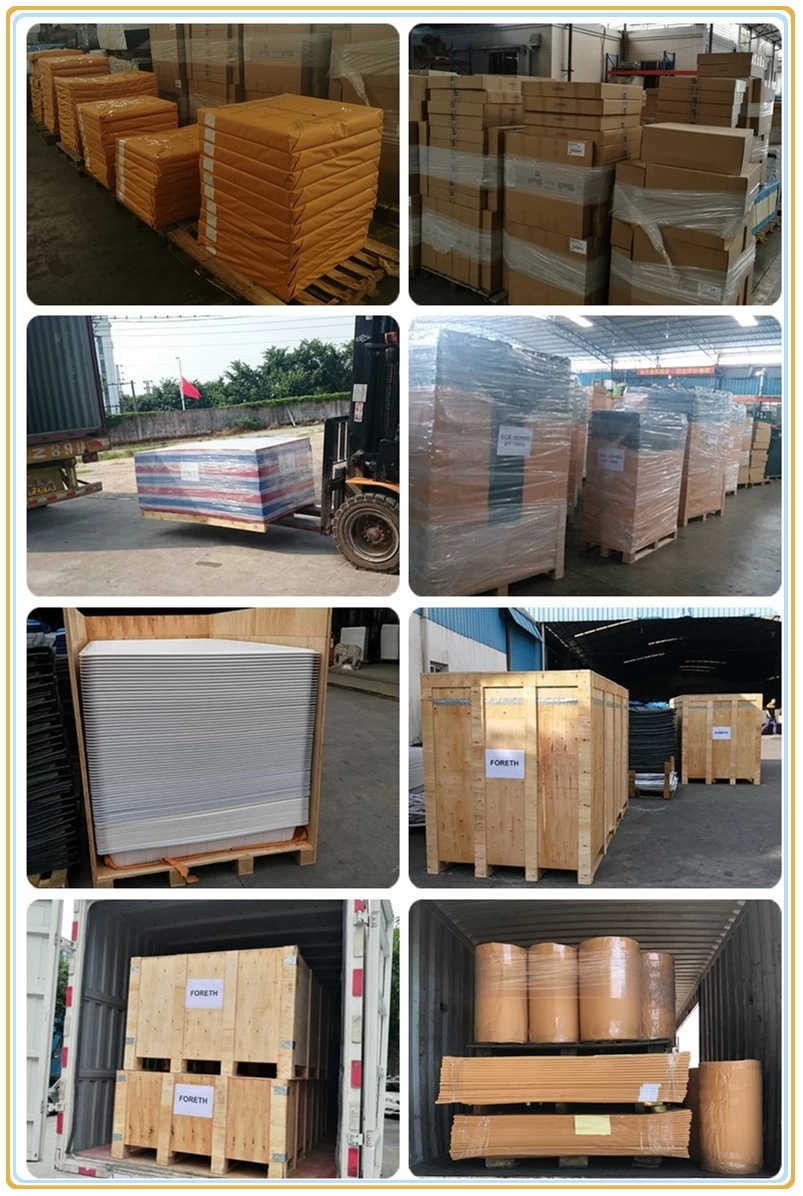 E. Polypropylene Sheet Applications
   1. Acid equipment, environmental equipment
   2. Waste water, emissions equipment
   3. Scrubbers, clean rooms
   4. Semiconductor plant and related industrial equipment
   5. Plastic water tanks
   6. Package box & notebook covers
F. Factory Profiles

We are the largest-scaled and best-equipped manufacturer in the field of plastic sheet and thick guage vacuum forming in china. We also own a well-experienced team--more than 15 years experience--of desingers and technicians, which enable us to supply you the most ideal products.


We integrate product design, prototype, tooling , vacuum forming, CNC trimming,silk-screen printing, spray painting,packaging in one company. In addition, we own our skilled acrylic displays craftsmen.All these help us to provide you with one-stop service from your designs/samples and even ideas to final products.

1. Raw material inslude PMMA, ABS, PS, PP, APET, PVC, PET, PET-G, and HIPS.
2. Plastic sheets max width can be 2000mm.
3. The Max forming products size can be 4000*2000*800mm.
4. The material thickness can reach 12mm.
5. we are able to do silkscreen, spray painting and prototype etc.
6. Products are widely applied in toy, catering, auto, mechanism, household appliance, tourism, printing, medical equipment, architecture, touring, advertising, furniture etc.
7. Lower tooling costs.
8. Extremely adaptive to customer design needs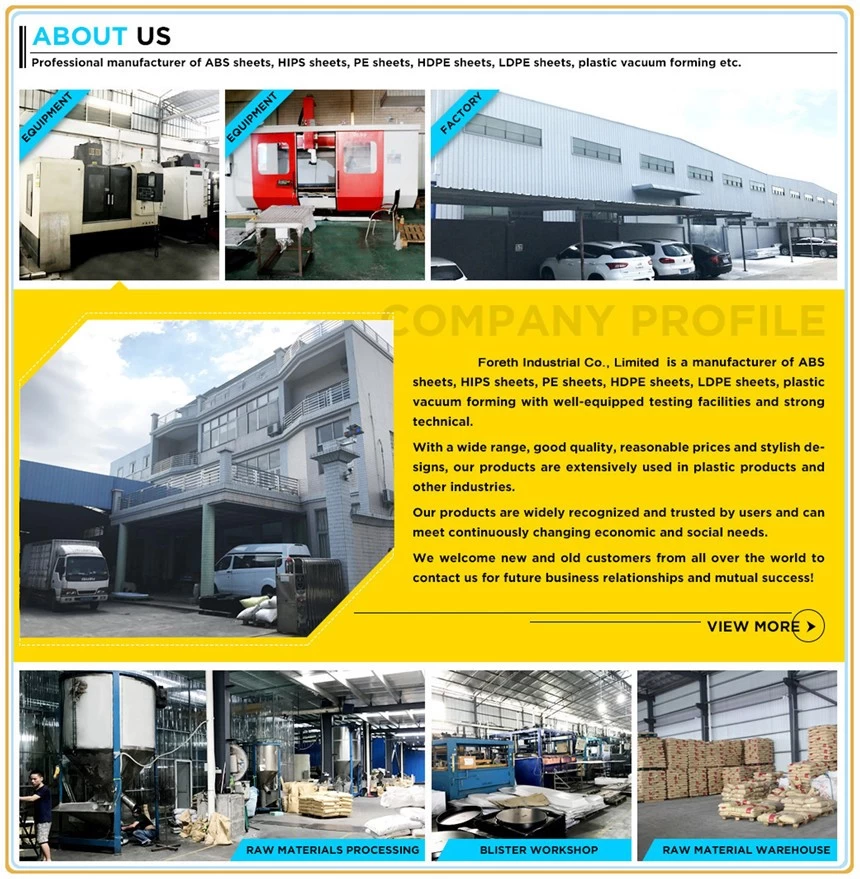 Foreth Industrial Co.,Ltd
PDF Show:PDF
Other Products